PHOTOVOLTAIC DEVELOPMENT PLUMA FARM
GERAÇÃO DISTRIBUÍDA
ELABORAÇÃO DO PROJETO EXECUTIVO E A EXECUÇÃO DA INSTALAÇÃO DO SISTEMA DE MICROGERAÇÃO DISTRIBUÍDA FOTOVOLTAICA (SOLAR)...
ILUMINAÇÃO PÚBLICA
GESTÃO COMPLETA DE ILUMINAÇÃO PÚBLICA URBANA E RURAL, MANUTENÇÃO CORRETIVA E PREVENTIVA DO SISTEMA DE ILUMINAÇÃO...
INDUSTRIAL LIGHTING
Development of projects, considering the activities that Will be performed and the public to be served, faithfully following the Brazilian standard ABNT NBR 5413...
Our time is formed by professionals of highest qualification, trained by the leading manufacturers, like WEG, ABB, AB and Siemens. We work with a wide field of legislation and of the technical standards.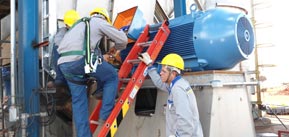 Malta is a company that acts in the sector of Industrial Mounts, Electrical Panels, Automation and Instrumentation, targeting the efficiency, organization, looking for always the best alternative and meeting the needs of our clients.